Third Harmonic Leakage Current Tester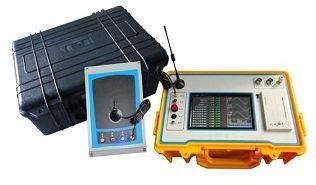 Business Type
Exporter, Supplier, Retailer, Wholesaler
Type
Leakage Current Tester
Material
Steel
Application
Industrial Use, Laboratory Use
Click to view more
Compliant with IEC6099-5 standards, our Third Harmonic Leakage Current Testers have high accuracy and precision. Our company's name figures in the list of reliable Suppliers and Exporters of Third Harmonic Leakage Current Testers from Maharashtra, India. The Third Harmonic Leakage Current Testers offered by us are least affected by external magnetic field and it indicates deterioration in quality of insulation of Lightening Arresters. Bulk orders of the Current Testers are catered by us.
Features
800 x 480 color LCD touch screen and high speed thermal printer.
Wireless PT signal transfer 400 meters, customized configuration over 2000 meters.
Applicable for arrester online & offline test and lab room test.
Three-phase current and three-phase voltage test simultaneously and improve efficiency. Support single phase test and 2 phases' testing. Only weak current inside the instrument, voltage is less than 12 volts. Current and voltage sensor is isolated, safe and reliable.
Support wire synchronization and wireless synchronization two kinds of voltage reference signal sampling method. Also support no voltage mode, find voltage reference signal by software calculation.
Equipped with industrial operating system, USB communication port.
Specifications
Testing Parameters
1. Waveform of Total Leakage Current
5. RMS and Peak Value of Fundamental Wave

2. Capacitive Current Wave
6. RMS of Fundamental Component for Resistive Leakage Current and
3, 5, 7 times RMS
3. PT Voltage RMS
7. Peak Value of Resistive Leakage Current Component: Ir+ and Ir-
4. Power Consumption of Arrester
8. Phase angle difference of Total Voltage and Total Current
Dimensions
Host: 360 *260 *140mm Accessories Case: 420 *330 *200 mm
Weight
Host: 5kg Accessories Case: 9kg
Looking for "
Third Harmonic Leakage Current Tester

" ?