Medium Voltage Circuit Breaker Analyzer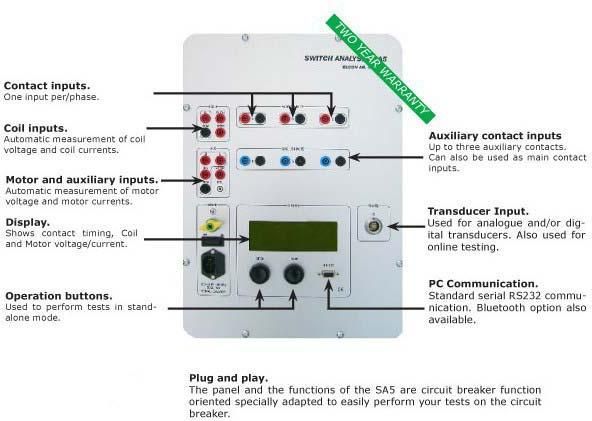 Business Type
Exporter, Supplier, Retailer, Wholesaler
Display Type
Digital
Material
Mild Steel
Application
Industrial Use
Click to view more
The Medium Voltage Circuit Breaker Analyzer is developed for professionals and is meant for medium voltage circuit breakers. The Medium Voltage Circuit Breaker Analyzer fully tests and analyzes medium voltage circuit breakers. Expanding contact timing tests to include travel results, the Medium Voltage Circuit Breaker Analyzer weighs 8.6 kg/17 lb and it is known for being versatile and precise. The company is a highly acclaimed Exporter and Supplier of Medium Voltage Circuit Breaker Analyzers.
Features :
Three contact input modules of SA5 are designated to be used as main contact channels, and three are designated for auxiliary contact use. It is possible however, by using BTS11, to dedicate any of the six channels to handle either.
Number of main contact timing channels : 3(6)
Number of auxiliary contact channels : 3
Coils and motor : Automatically measures circuit breaker coil and motor current / voltage. Together with an adjustable power unit it is very easy to perform minimum function voltage test on the coils.
The SA5 uses 1 analogue channel to measure coil voltage and current and 1 channel to measure motor voltage and current. For the coil, 35 A AC/DC is possible for continuous measurement, and for the motor, 50A AC/DC. However, if necessary, higher currents will pass for shorter periods.
Motion measurements : The SA5 supports both analogue and digital transducers. A wide range of transducer fastenings can also be supplied. Elcon International is the official worldwide supplier of transducer fastenings for ABB Breakers.
Number of digital transducer inputs : 1
Number of analogue transducer inputs : 1
Analog inputs : All in all, the SA5 has 9 analogue inputs, however since our intention is to provide you with a test equipment that is user-friendly and circuit breaker oriented, they have been preset to handle specific relevant functions such as coil and motor voltages, currents, analog motion transducers etc.
Communication : Standard RS232 communication is default. However, in order to comply with safety regulations an optional Bluetooth interface is available, which allows the user to take his laptop pc and move up to 100 m (328 ft) away from the test-object.
Looking for "
Medium Voltage Circuit Breaker Analyzer

" ?