Energy Meter Tester (3.1 KM)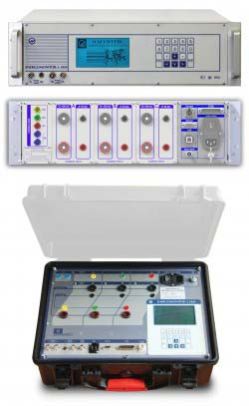 Business Type
Exporter, Supplier, Retailer, Wholesaler
Application
Industrial Use
Frequency
45Hz, 66Hz
Automatic Grade
Fully Automatic
Click to view more
Product Details
Feature
Easy To Use, Proper Working, Superior Finish
Operating Current
Double Phase, Single Phase, Triple Phase
Temperature Capacity
High Temperature, Low Temperature, Medium Temperature
Energy Meter Tester (3.1 KM) is meant for adjustment or accuracy tests of reference-class or service-class instruments. It is available in accuracy class of 0.02, 0.05, and 0.1. Energy Meter Tester is a multifunctional reference standard designed for testing or adjustment of most precise reference or working standards and measuring instruments (electrical values and power quality parameters). The quality parameters of Energy Meter Tester is according to IEC 61000-4-30 including harmonic (up to 50th) and inter-harmonic measurements. We provide Energy Meter Tester in two design options that are portable and desktop. It can be used independently or with a PC, that provides extended functionality. It is intended for use in national centers of standardization, metrology and certification, industrial metrological labs, etc.

Suitable For Testing Of :
Reference active, reactive and apparent power and energy meters (single- and three-phase);
Single- or three-phase watt-meters, var-meters, as well as instrument-class converters of active or reactive electric power;
Phase-meters, frequency-meters, and PF-meters;
Instruments for AC voltage, current, active and reactive power measurements working within commercial range of frequencies;
PQP Analyzers (single- and three-phase);
 
Portable Design (fitted into IP51 dust-tight enclosure) :
Portable Energomonitor 3.1KM complete with three-phase Phantom Power Source Energoforma 3.3 can be applied for testing of active, reactive single- and three-phase power and energy meters, voltage transformers, current transformers power quality analyzers, electric energy meters etc.
 
Desktop Design :
Available as part of MTS ME 3.1KM test system, it is used to test reference-class and service class-measuring instruments (up to 800V, 100A).
 
Energomonitor 3.1K-05 Provides :
Displaying of the parameters being measured on the built-in display and PC
Analysis of measurement results using special-purpose software EmWorkNet and EmCounter
Relative measurement error for active power: 0.015%, 0.05%, 0.1% (depending on the design version).

Accessories :
Photoelectric scanning heads
Sets of current clamps (10 – 3000A)
Current Transformer Calibration Switch, Voltage Transformer Calibration Switch
Looking for "
Energy Meter Tester (3.1 KM)

" ?